Want to earn KLUB Points? Easy!
Earn KLUB Points whenever you spend, and convert them into K Dollars to use as instant cash at participating merchants!
How to register your spending:
1. Upload eligible merchant receipts and related electronic payment slips in the 'K11 HK' App: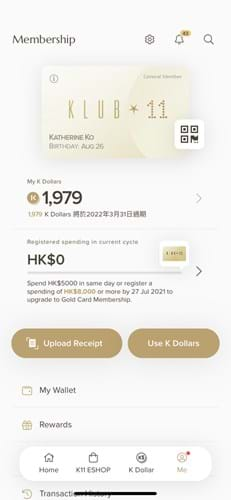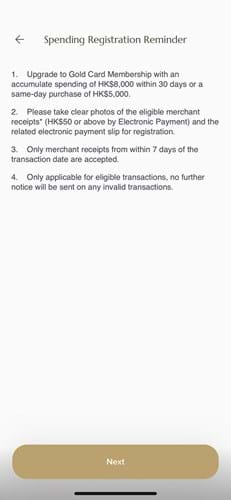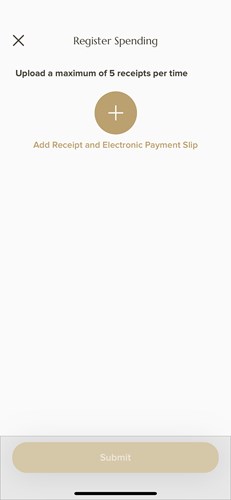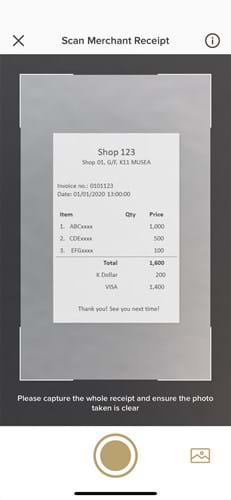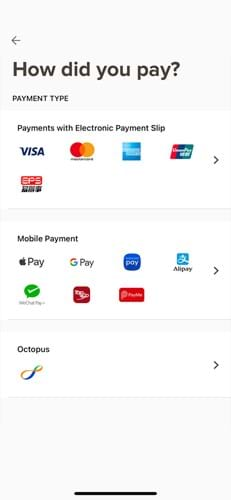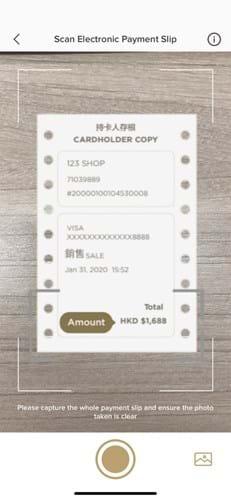 OR

2. Upon checkout of eligible spending at designated merchants, present your KLUB 11 Membership QR code from the 'K11 HK' App. KLUB Points will automatically be registered to your account!
Merchants list (K11 Art Mall):
8 Loeng, Afresh, Ah BU, Baekmidang, Café Crepe, Carbali, Cookat Market, D-mop, Evolcare, Fancl, Ganko, Hair Corner, HOW TO LIVE WELL, K11 Design Store, Kinsole, K-Swiss, Melvita, Mi Ming Mart, Mini Punch, Miss Sixty, Monologue, Moonkok, Morozoff, Moussy, NAUTICA, New World Mask, The North Face, Pamycarie, Paul & Joe, Popcorn Supply, Pound & Roll, Ricky's Kitchen, Ruby Tuesday, Shaz Confections, Shiawase Yakitori, Soinlove, SuMo Pottery, The Alchemist Creative Coffee by GABEE, The North Face UE, The Warehouse Optic, Tsuchiya Kaban, Twinkle Baker Décor
Merchants list (K11 MUSEA):
10/10 Hope, A Happy Pancake, Adidas Footwear Supply, Alice & Olivia, Amore Pacific, APM Monaco, Artisan Lounge, Balenciaga, Bao Bao, Barbour, Bee Cheng Hiang, Bee Cheng Hiang, Beyorg X A.O.R., Boy London, Build-A-Bear, Burerry, Brunello Cucinelli, Casetify, Charles & Keith, Charlotte Tilbury, Chatterbox, Claudie Pierlot, Champion, Delvaux, Design Corner, Diesel, Dior Beauty, Diptyque, Doje, Donut Café, Donut Playhouse, Donut IP store, Evisu, Fancl, Fine Wine Experience, Garmin, GCDS, Gentle Monster, Georg Jensen, Givenchy Beauty, Goutal, Greyhound Cafe Galleria, G-Shock, GUCCI, Guerlain, IE Sushi and Teppanyaki, JINS, J Select, K11 Art House, KAIYO, Kapok, Kenzo, Kids 21, Kolon Sport, La Prairie, Lanvin, Le Fromage by Ma, Le Labo, Legoland Discovery Centre , Legoland Discovery Centre (Gift shop), Leonardo3 Museum • Hair Corner, Levi's, Liquid Gold, Little Stardust, Maje, Manolo Blahnik, MetroSix, MoMA Design Store, Moody Tiger, Mulberry, Nature Purest, New Era, Nicholas & Bear, Once Massage, Optical 88 Family, Pachy Patchy, Point De Vue, Popcorn , Primeval Organic, Primo by City Chain, Reign Caviar, REIGN The Abalone House, Roger Vivier, Ruff & Fetch, Saint Laurent, Sake Moment, Sandro, Save The Duck, Scented Niche, Serge Lutens, Sergio Rossi, series corner, Sexy Crab, Shanghai Tang, Silver Cross, Sisley Paris, Slime It!, So Sweet by Hair Corner, Stream + B, Sulwhasoo, Sunion, Sushi Wadatsumi, The Whisky Library, Tod's, Tory Burch, Twinset, VELO, Vitra by Kapok, Vivienne Tam, Y-3, Yohji Yamamoto, YumMee, Yung's Bistro
Last updated on: 6 Oct 2021
Terms and conditions apply.