Want to earn K Points? Easy!
Earn K Points whenever you spend, and convert them into K Dollars to use as instant cash at participating merchants!
How to register your spending:
1. Upload eligible merchant receipts and related electronic payment slips in the 'K11 HK' App: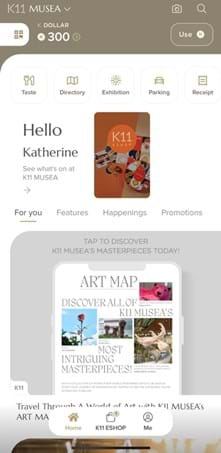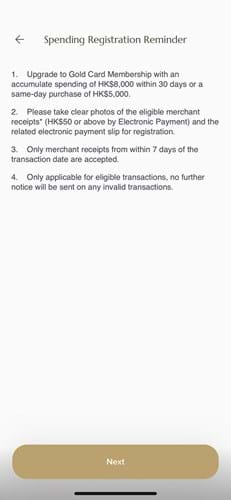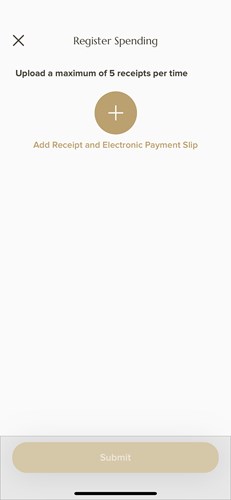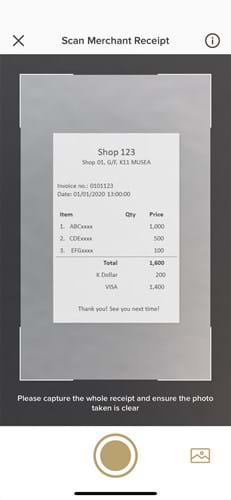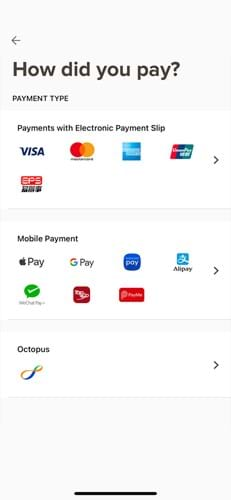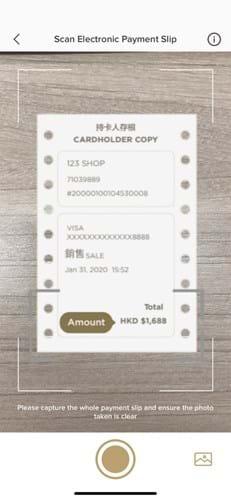 OR

2. Upon checkout of eligible spending at designated merchants, present your KLUB 11 Membership QR code from the 'K11 HK' App. K Points will automatically be registered to your account!
Merchants list (K11 Art Mall):
#CCCCCc Se/ect X Liberation, ABC Cooking Studio, Afresh, agnes b, agnes b. LE PAIN GRILLE, Ah BU, Ahan Thai, AME Stadium, ARCHIVAL REINVENT (ARC), Arcteryx, Atfoodfactory, AV Life - Prestige, Awesomeism, b/major, B'IN Select & Florantiques, Café Crepe, Café life, CANDID, Carbali, CARRYin, Châteraisé Patisserie from Japan, Cookat, Coucou, Da Yung's, Dao Cheng, Duras, Fancl, Ganko, Gelato Pique, GQOG Lifestyle, Hair Corner, Hair Corner, HAND3AG, Haustage, Hey Tea, Hiatus,HOW Furniture, HOW TO LIVE WELL, HOWL x Liberation, ICHIJUISSAI, Kinsole, Kometaki, K-Swiss, KURA CHIKA by PORTER, Life Kan, Living Khemist, Lucullus, Maskology Living, Mellow, Mi Ming Mart, Midwest Vintage, Mille-Feuille Fashion Select Store, Miss Sixty, Mizuno Sportstyle HK, Moonkok, NewWorld Mask, NINEPOINTNINE/PROJECT "UP" by Popcorn Supply, O.N.S kapok, Oplus2, OYTY, Pamycarie, Pan de Pain, Pandora, Paul & Joe, Pinkicon, Popcorn Supply, Pound & Roll, R2B, Ricky's Kitchen, Romanova Bakery, Ruby Tuesday, Shaz Confections, Shelookup, Shiawase Yakitori, Shuki, Simplii Yours, Snidel, Soinlove, Suavis Lash Bar, SuMo Pottery, Tea Express Bar by Jrink, The Alchemist Creative Coffee by GABEE, The ASH, The Hubble Studio, The JANG, The North Face Concept Store, The Warehouse Optic, Town House, Tsuchiya Kaban, Twinkie Cookies, Twinkle Baker Décor, USAGI ONLINE STORE
Merchants list (K11 MUSEA):
10/10 Hope, A80 Paris, A Happy Pancake, Adidas Footwear Supply, Alexander McQueen, Alice & Olivia, A lot Living, Amore Pacific, APM Monaco, Artisan Lounge, Balenciaga, Bao Bao, Barbour, Beautysaur Organics, Bee Cheng Hiang, BEP by Nha Thang, Beyorg X A.O.R., Bimbo Living, Blooms Coffee, Boy London, Build-A-Bear, Burerry, Brunello Cucinelli, Byredo, Casetify, Charles & Keith, Charlotte Tilbury, Chatterbox, Claudie Pierlot, Champion, Club Bodega, Cobo House, Cou Cou Reserve, Cou Cou TeaMiTea, Dabpa Artisan, Delvaux, Design Corner, Diesel, Dior Beauty, Diptyque, Doje, Donut Café, Donut Playhouse, Donut IP store, Ekobor, Ekimae-ya , Eslite Book store, Evisu, Fancl, Fine Wine Experience, Foodbox, Fortnum & Mason, Garmin, GCDS, Gentle Monster, Georg Jensen, Givenchy Beauty, Giorgio Armani, Glasshouse Greenery, Gontran Cherrier, Goutal, Greyhound Cafe Galleria, G-Shock, GUCCI, Guerlain, Harry's Kitchen, IE Sushi and Teppanyaki, JINS, Jimmy Choo, J.Lindeberg, Juice, J Select, K11 Art House, KAIYO, Kapok, Keen, Kenzo, Kids 21, Kolon Sport, La Prairie, Lanvin, Le Fromage by Ma, Le Labo, Legoland Discovery Centre (Gift shop), Legoland Discovery Centre , Leonardo3 Museum • Hair Corner, Levi's, Liquid Gold, Little Stardust, Loewe, Maje, Malin & Goetz, Manolo Blahnik, MetroSix, MoMA Design Store, Moody Tiger, Moono, Mother Court, Mulberry, National Geographic, Nature Purest, New Era, Nicholas & Bear, Okura, Once Massage, Optical 88 Family, Organic Mom, Pachy Patchy, Pantone, Patagonia, Petit Bazaar, Petit Boo, Point De Vue, Popcorn , Portspure, Primo by City Chain, Primeval Organic, Redline, Reign Caviar, REIGN The Abalone House, Roger Vivier, Saint Laurent, Sake Moment, Sandro, Santoni, Save The Duck, Scented Niche, Serge Lutens, Sergio Rossi, series corner, Sexy Crab, Silver Cross, Sisley Paris, Slime It!, So Sweet by Hair Corner, SONY, Steinways & Son, Stream + B, Sulwhasoo, Sunion, Sushi Wadatsumi, Tea Chateau, The Big Things Ltd, The Mussels Bar, The Whisky Library, Tod's, Tominokoji Yamagishi, Tory Burch, Twinset, VELO, Vivienne Tam, Vitra by Kapok, Y-3, Yakiniku JIKON by Tominokoji Yamagishi, Yohji Yamamoto, YumMee, Yung's Bistro
Last updated on: 14 Jun 2022
Terms and conditions apply.